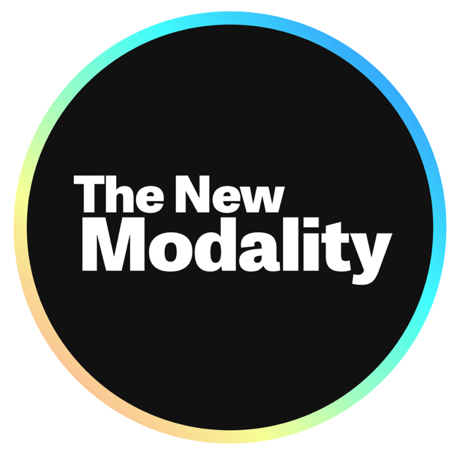 The New Modality logo, by Jenna Van Hout
This is version 1.5 of this article (versions chronicled at the end)
Hi. I'm Lydia. I'm co-creating a new publication and convening a community of people who move culture forward. The publication is called The New Modality, and our tagline is "Experiments in Culture."
My dream is that The New Modality will help humanity thrive and create a better future, will work in service of truth and beauty, will provide enough value to the community that the publication is supported by its readers, and will treat contributors well. Yes, this is idealistic and ambitious. We need your help to make it happen!
What We'll Cover: The Specifics and The Plan
We're based in the Bay Area and we honor its history. However, The New Modality is a global publication.
The New Modality seeks answers to the question: "What is a meaningful life in this rapidly changing world?" This is a question of culture, economics, governance, and beyond, because change is occurring at all levels: the individual, family, community, city, nation, and worldwide.
We'll be optimistic, yet rigorous and critical; pluralistic, with a sense of independence-plus-interdependence; authentic, empathic, and thoughtful. Some material will be systems-level examination and critique, and some will be highly personal.
We're interested in covering the following things, but we aren't limited to them…
• Arts & Culture:

Immersive, participatory, and game-inflected art; maker culture; digital and internet art; psychedelic culture; emerging institutions, like Burning Man and Meow Wolf
• Science:

 New research related to our other topics; philosophy of science; paradigms and adventures in epistemology; extrapolations of science, and science fiction
• Spirituality: 

Notions of enlightenment, mysticism, the divine, and their histories, with a focus on direct personal experience and syncretism
• Technology: 

The impact of tech on society; emerging tech; humane tech; civic tech
• Alternative Relationships & Family:

 Co-living; co-housing; co-parenting
• Sexuality:

 Polyamory and other forms of consensual non-monogamy; BDSM; LGBTQIA; and even (!) perspectives on cisgendered monogamous heterosexuality (!)
• Business:

 From startup culture to new business models and systems
• Philanthropy:

 Community philanthropic models; philanthropic innovation; philanthropic efforts related to our other topics
• Society:

Emerging liberal and leftist politics and economic models, like basic income
If that list excites you so much that you want to submit your ideas ASAP, you can do that here! (Or sign up for updates.)
Operationally, the publication will include online and print components, as well as events and a community fellowship.
Operational details:
- This is subject to change if we find a model that serves our audience better, but: I anticipate publishing three physical issues per year, with some online material.
- A lot of the online material will be the same as what's in the print magazine, and some won't.
- Format-wise, we'll start with writing, illustrations, and photos.
- We may include a bit of podcasting if we have the energy and resources.
- Genre-wise, we plan to do mostly non-fiction — perhaps some science fiction and other visionary writing — as well as profiles of interesting people and organizations in The New Modality zeitgeist.
- We'll also host events to connect The New Modality community, starting in San Francisco and New York.
(As an aside for the Future of Media nerds in the audience [please skip this paragraph if the first sentence either seems boring, or makes no sense]: In my Ridiculous Dream Future Where We Have All The Money, I will totally do R&D on a digital content product that includes social, community, and even CRM elements. Obviously, my imagined hypothetical publisher/platform hybrid will be perfect and way better than any other has ever been! However, I'm aware that many media companies have died on this hill. Indeed, I wrote an article about that for the Harvard Business Review back in 2015. So I don't plan to risk our ability to execute on our core offering — i.e., The New Modality's writing, art, and events — in order to build such a thing. My lack of appetite for this risk may mean I never get to attempt MY VERY OWN PLATISHER, but hey! Maybe my Ridiculous Dream Future WILL appear! Also, if you're the kind of media nerd who laughed at this paragraph and likes noodling platisher theory, hit me up on Twitter.)
Who Are You Anyway?
My name is Lydia Laurenson, and I'm editor-in-chief of The New Modality. I recently gave notice at a wonderful gig — I was running the print magazine for San Francisco social club The Battery — in order to go full-time on this new publication.
Here in the Bay Area, I have:
- Worked at few media-tech companies including crowdfunding and social media products…
- Plus a stint as director of strategy & research at the digital journalism company News Deeply.
- I've written extensively about tech, media, art, and culture: about digital pseudonyms for The Atlantic, about digital media business models for the Harvard Business Review, about San Francisco's very own secret society startup for Vice's tech publication Motherboard.
- I've also done nonprofit consulting about the impact of tech on society. This year, the Toda Peace Institute published two policy briefs I wrote about polarization, peacebuilding, and other policy issues on digital media platforms (here's Part 1, and here's Part 2).
- Two years ago, I was nominated to join The Battery; after I joined as a member, their head of culture asked if I could help launch their print magazine about arts, culture, and philanthropy. I was excited (and surprised) to work on a print product, and I spent the last couple years as their first managing editor.
I've done various transmedia things too:
- Back in the mid-aughts, I started my career as a game designer and writer at White Wolf Game Studio.
- I've worked as a bookseller in an actual bookstore…
- And a self-publisher and online bookseller, after becoming an indie blogger with my own following. (Nowadays they call us "influencers.") In 2018, I got interviewed by The New York Times and then came out of the closet after ten years maintaining secrecy around my blogging pseudonym, Clarisse Thorn.
In short, I've worn many media hats. Starting my own publication might just be the logical next step.
The specific idea and title for The New Modality came from two close friends of mine (now advisors!), Nick Pinkston and Rose Broome. Both are experienced entrepreneurs here in the Bay Area. Nick grew up in Pittsburgh and moved here in his 20s; his last startup, Plethora, is in the automated manufacturing space. (Nick has also spoken widely about the future of work, and even gave a talk at the Obama White House.) Rose grew up here and her last startup, HandUp, was a direct donation system for people experiencing homelessness. (HandUp has the distinction of being one of the first startups to incorporate as a Public Benefit Corporation!)
I met them several years ago at a Northern California event with microtalks and hot tubs. Rose and Nick were already using the phrase "The New Modality" ("NewMo" for short) to describe a certain kind of culture including cooperatives, polyamory, and basic income — and we discovered that we shared an intuitive sense of what lands in this zeitgeist. They really wanted a publication dedicated to these topics, and after I spent some years getting closer to them and also creating a magazine for someone else, I developed a vision of what that publication could be.
The New Modality's Audience
A lot of people ask about this. Many ask specifically whether we care about anyone besides coastal elites in the Bay Area and New York. This makes sense, given the national conversation across the US about whose experience is centered (or censored) and whose is not.
The New Modality will speak to a specific culture and set of trends. Presumably, much of the audience will be in places like the Bay Area and New York as well as other liberal urban areas. However, from the very earliest conversations, it's been a big part of our vision to both (a) reach a global audience, and (b) be accessible to folks in areas where NewMo culture is less concentrated. In particular, it's important to us that the magazine be accessible to people who disagree with — or have never heard of — the stuff we're talking about.
This is informed by our personal histories. Nick grew up in Pittsburgh. I spent most of my twenties in Chicago, with a trip to Swaziland, Africa to serve in the Peace Corps. We know from experience that NewMo culture is represented in many other places. To this day, the books I wrote as Clarisse Thorn about BDSM, consent, and gender are bought all over the world — one is being translated into Korean right now. And for a recent project about "alternative parenting," I just got a piece of fan mail from South Africa.
Another example of global NewMo is the "regional Burn" movement — i.e., Burning Man events in worldwide locations, which are inflected by the cultures that host them to become something new. And I'm sure there are other trends I'd recognize as NewMo that are wildly different from anything I can imagine now, coming out of places I'd never think of, and I'm excited to learn more about those.
(This is probably a good time to note that I'm excited to commission articles about NewMo stuff happening in other countries, or in places and groups within the US, that might not normally be associated with it. If you have ideas about that, please please submit them!)
With all that said, we are based in the Bay Area, and NewMo trends are obviously huge here. Our networks here are huge, too. Most of our initial contributors will be drawn from our networks (especially since we have no money to pay anyone yet, which means many contributors are helping solely because they trust us and want to be part of our awesome thing).
We had a pre-launch event earlier this year in San Francisco, just for friends and potential contributors; about 75 people came, and they were psyched. One amazing person brought, unasked, a cake inscribed with "Congrats Lydia!" Another amazing human did extensive photo-documentation and later said, "It was clearly a historic moment." A third person took our pre-launch fact sheet home with her and posted it on the inside of her bathroom door so people who visit her apartment will see it (also, this gives her visitors time to ponder it deeply).
After the event, many attendees sent submissions right away. Some offered venues for future events. One, who runs a local festival, offered me the opportunity to give a presentation about the publication on stage at his event. And two, who have large followings, told us they'll gladly promote us to their mailing lists once The New Modality launches for real.
I tell you this because when people ask, "Who's your audience?" I want to describe the passion that unites our community. I've already talked to at least a hundred people who see the list of topics at the top of this post and go, "YES! WHERE DO I SIGN UP???!" If this is you, send us your ideas (or just sign up for updates)!!
Historical Forerunners
One of our advisors on this project, Fred Turner, is a Stanford professor and author of the book From Counterculture to Cyberculture. Here's a quotation from that book that inspires me. It describes Stewart Brand, founder of the now-closed Bay Area publication Whole Earth Catalog:
"What you're trying to do is nourish and design an organism which can learn and stay alive while it's learning," Brand [wrote of the Whole Earth Catalog]. "Once that process has its stride, don't tinker with it, let it work for you." … Apart from the "Purpose" section at the start of each Catalog, Brand's editorial comments and reviews tended to be brief, modest, and casual. They projected a take-it-or-leave-it tone and a sense that the author saw his readers as equals. Brand took the process further by publishing the full financial accounts of the Whole Earth Catalog in every issue after the first. While mainstream publications kept their numbers to themselves and made their workings a mystery, the Whole Earth Catalog invited its readers in. The Catalog may have been a system like other publications, but by publishing its accounts, Brand suggested that it was an open system, one over which its readers as much as its producers retained control.
Other historical publications that inspire us are the original Wired (the Wired of 2019 is also great, and I read it all the time, but the current Wired has become somewhat different from its original form in the early 90s). There's also Mondo 2000, which came before and influenced Wired. (As a side note, I'm pleased and honored to say that R.U. Sirius, editor-in-chief of Mondo 2000, wrote a short piece called "5 Myths About Psychedelics" last year for my previous magazine.)
Company Structure and Business Model
Right now all our creative contributors are working for free. But when we have money, we will pay our contributors, if they need to be paid. Not everyone needs to be paid, as I've learned from many gigs over the years. (I've worked with writers and editors who had wealth from other sources and described amounts of money that were critical to me — a full-time writer at the time — as "pocket money.")
I'm very committed to developing a transparent and honorable payment model, and that's in progress. If you're interested in talking about that, check out the Facebook post where I wrote up my thoughts about it (which has many awesome comments containing interesting ideas).
In May 2019, we had a small party and sold tickets, raising a little bit of money to help cover our basic website building costs. In August 2019, we finalized our partnership with Independent Arts & Media, a nonprofit in San Francisco that enables us to receive tax-deductible philanthropic donations through them (the technical phrase for this relationship is that they're our "fiscal sponsor").
In terms of company structure: We don't want to raise venture capital for this project, and we've had several conversations with a media lawyer about how to incorporate. The lawyer strongly encouraged us to become an LLC, because that's fast and flexible. We might convert into a nonprofit later — for now we're just trying to get off the ground as fast as we can.
After getting initial support from the donations I mentioned above, we will soon run a crowdfunding campaign. From the campaign we hope to get a solid starter set of subscriptions. And I plan to focus hard on subscriptions to support us over the long term. My goal is to become sustainable with subscriptions. We might run ads eventually, or maybe not (and only if we think the advertiser is reasonable)!
Conclusion: Keep Us Accountable To Our Values
We are very early in this process. I anticipate that we'll spend the first few years mostly trying to survive, and that it will be hard. But the ultimate goal is to create something beautiful that truly serves The New Modality community. As part of that service, I want to keep our processes transparent and our channels open for feedback and ideas.
Hearing feedback gets harder as the audience gets bigger. I know that from experience. Right now, our audience — The New Modality community organism — is nascent and I'm closely in touch with most of it. In the future, I won't be able to stay so closely in touch with the organism's extremities. Yet I want to stay aware, and more importantly, to stay accountable. I want to both hold and to deserve the trust of our community.
There are various established methods that publications use for this — advisors, editorial boards, Codes of Conduct for events, and the like. Even social media accounts can help with accountability, though that's hard to manage at scale. We'll use those and we will also tell you everything you never wanted to know about how we structure them, in our desire to be transparent!
But realistically, this all boils down to continuous listening coupled with an ongoing commitment to humility, plus people trusting us enough to tell us what they think. I hope to deserve your trust so you will help keep us accountable for values like:
• Truth: We will tell the truth. 

This might sound simple, but it's not, especially when creating organizational processes to ensure that we tell the truth at scale.
As part of our commitment to truth, we will clearly and publicly document our fact-checking and epistemological processes. An article about personal spirituality may have a different fact-checking process, with a different approach to epistemology, when compared to an article describing a new scientific paper; we'll show you how we reach conclusions about both.
• Respect: We will respect the people and communities we cover and serve. 

Empathy is one of our core values, and one way to show empathy is to speak respectfully of people, even when we disagree with them. We'll also respect our contributors by being transparent about our payment process and other processes that affect their work.
As part of our commitment to respect, we'll do our best to get articles about specific identities, perspectives, or communities reviewed by outside readers with expertise in those things pre-publication, and we will document the process. I'm also currently working on designing a transparent renumeration system for contributors; if you're curious to learn more about that, check out this Facebook post (and the many interesting comments people have left).
• Stewardship: We will use sustainable practices, preferably regenerative ones.

 "Regenerative" is a word often found in conservation circles, referring to pro-environment practices that build up the ecosystem rather than simply failing to harm it further. (Another way of thinking about this is to "leave this world a little better than you found it," as Boy Scouts founder Robert Baden-Powell reportedly said.)
As part of our commitment to stewardship, we hope to use carbon-neutral paper for the print magazine, and will document the process. We will also do our best to avoid industry practices that harm readers' trust in the media ecosystem, like misleading clickbait headlines, because those things mess up journalism up for everyone — even if those practices are common. And we'll document that, too.
We're just getting started. Want to help? Send us your pitches, ideas, tips, thoughts, and feedback (or once again, sign up for updates). If you'd rather reach out for a public conversation, ping me on Twitter @lydialaurenson.
Version 1.0 of this article posted May 1, 2019
Version 1.1 of this article changed on May 2, 2019. (We made some additions to the "what we'll cover" section based on some old-but-good notes from a team member)
Version 1.1.1, May 4 — lowercase job titles (e.g., Managing Editor → managing editor)
Version 1.2, May 8 and 10—modified the "business model" section to be in line with the payment system we're designing, and added link to Facebook post to various bits of this essay
Version 1.3, May 29—added info about our fundraiser party, and adjusted timeline and compensation notes in the "business model" section
Version 1.4, July 10—A previous version of this article erroneously stated that it's not possible for a media company to be a Public Benefit Corporation in California, because I misunderstood something our lawyer said. I corrected this error and updated the "Company Structure and Business Model" section. Also, just for fun, I added the word "monogamous" to "cisgendered monogamous heterosexuality," and added a link to the policy briefs that just got published by the Toda Peace Institute.
Version 1.5, August 21—added info about our new fiscal sponsorship arrangement with Independent Arts & Media